Envi Compact Crawler
30000
Officially on the market since the fall of 2018, the new Envi Compact Crawler weighs less than a ton and yet gives you a push force of 20 tons. Carrying up to forty one meter rods the machine can easily be operated by one person. The crawling capacity makes covering terrain super easy and effortless. Wide belts can carry the crawler also on very soft soil. Powerful integrated anchoring auger engines makes site setup fast and effortless.
With our newly developed Envilogger C2, Durabook tablet PC and our application suit installed - the Envi 20 ton Compact Crawler is ready for the field! The machine is then prepared for using the Memocone CPT and the Memovane Vane shear test equipment.
Technical Specification
Engine
Honda GX390
11,7 HP / 8,7 kW
Max RPM: 2800
Max torque: 200Nm
12V battery
Hydraulic pump
Turolla Open Circuit Gear
SNP2NN/06
Displacement 6.0 cm3/rev
Max nominal/operation pressure: 250 Bar
Max pressure peak: 280 Bar
Minimum speed at 0-100 bar: 600 rpm
Minimum speed at 100-180 bar: 1200 rpm
Min. speed at 180 bar to rated pressure: 1400 rpm
Maximum speed: 4000 rpm
Hydraulic tank: 30 liters
Danfoss and other high end components used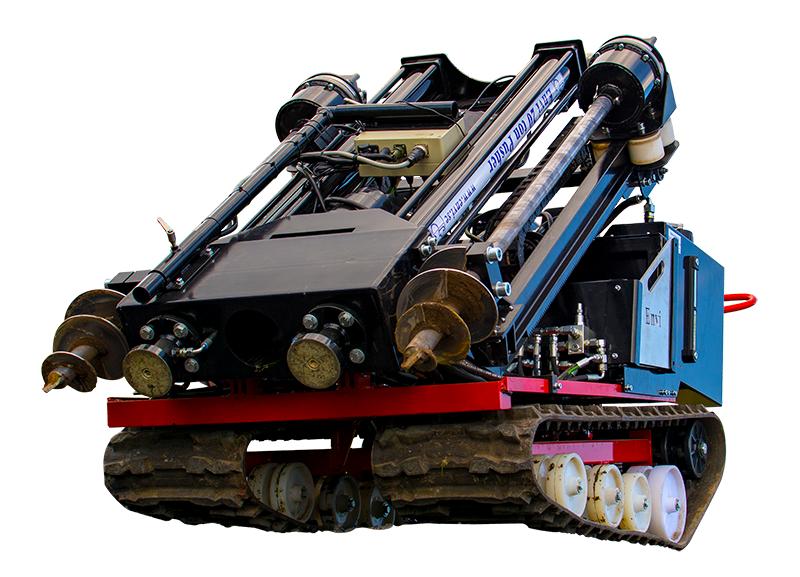 ---
Envi 20 ton pusher
40000 (complete with cart/carrier)
40001 (complete without cart/carrier)
The pusher is small enough to be transported on a pick-up truck or on a trailer. The anchoring system operated by two persons will anchor the pusher in all types of soils. The two hydraulic cylinders have a stroke of > 1 m so you can push 1 meter rods in one stroke. The pusher is manufactured in Sweden. This pusher is the second generation pusher sold by Envi. It succeeds the successful pusher manufactured in Thailand that was earlier resold by Envi.
Technical Specification
Engine
Honda GX390
11,7 HP / 8,7 kW
Max effect at 3600 rpm
Max torque (26,4 Nm) at 2500 rpm
Hydraulic pump
Turolla Open Circuit Gear
SNP2NN/011 RN01BA P1C3C3 NNNN/NNNNN 21 JLY09 00444
Max nominal/operation pressure 250 Bar
Max pressure peak 280 Bar
Displacement 10,8 cm3/rev
Max rotation 4000 rpm gives Max flow ~ 43 litre/minute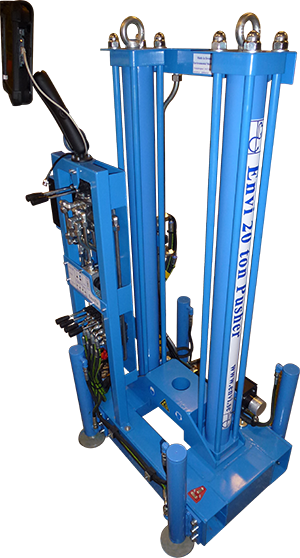 CPTu
Memocone CPTu Cone Penetrometer is the Envi CPTu probe. Unlike early mechanical cone penetrometers, the Memocone is an electronic CPTu cone, and fully digital. For your convenience we have made available a more detailed description about our CPTu equipment, as well as a tutorial on the Cone Penetration Test as a testing method.
Corded CPT
9101 (Complete in wodden box)

When you use this version you need to have a wire from probe up to logger unit on ground surface. Advantages are that data is continuously sent to surface and that you need no batteries. It may also be an advantage if you want to piggyback units from different vendors.
Cordless CPT
9103 (Complete in wooden box)

The advantage of using this version is that you need no wire connecting the probe with the logger on ground surface. The unit is powered by batteries which can be regarded as a drawback. However the batteries last for at least one full day! Disadvantage is that you can't see e.g. inclination in real time during the push but on the other hand you can read the push force from your rig/pusher and deduce a lot from that.
Cordless acoustic
9212 (Complete in wooden box)

The advantage of using this version is that you need no wire connecting the probe with the logger on ground surface. The unit is powered by batteries which can be regarded as a drawback. However the batteries last for at least one full day! Together with our microphone & BlueSound box you will, as with the corded version, be able to see live data (U, Q, Fs, inclination and temperature) during the CPTu test.
---
Probe only Memocones
9105 (5 ton probe only)
9102 (10 ton probe only)
If you need only the probe, for any reason, the Memocone comes without the protective wodden box. What is included in "probe only" is the Memocone and a slot filter point
---
All Memocones fulfill highest requirements from standard organizations and comes with a slot filter instead of the regular porous filter. We can also deliver with porous filter but we promote the slot filter due to its' many advantages. Envi was the first company to commercialize the slot filter and use it as standard for our probes. Since then other vendors have followed. The advantage with the slot filter is that it needs a lot less caution than the porous filter. You can prepare several in advance and store them without having to think about keeping them in vacuum or vertically when on cones etc. The slot filter is easily prepared for use also in the field.
---
CPT add-ons
---
Seismic
9229 (Seismic probe only)
9227 (Seismic complete system)
Our seismic add-on can also be run stand-alone but that is not the common procedure. A triaxial accelerometer is used in current version. A digital oscilloscope is used to receive, record and present seismic waves (P and S waves). The add-on can be run together with the Memocone and is activated by a simple change of a switch. The seismic add-on works with the corded Memocone.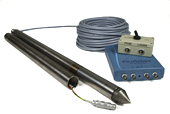 ---
Spare parts and accessories
---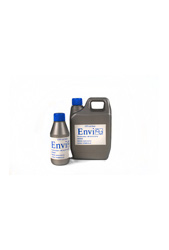 CPT oil
9029 (200 ml)
9030 (1000 ml)
Envi recommend that our customers use Envi CPT oil for optimal measuring results. Our oil is temperature stable and 100% biologically degradable.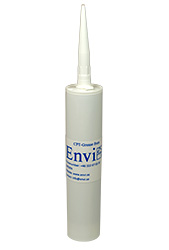 CPT grease
9078
Envi recommend that our customers use Envi CPT grease for optimal measuring results. The grease is temperature stable. Developed for optimal CPT pore pressure readings.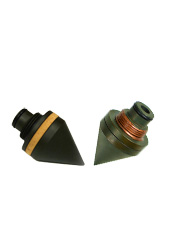 Cone tip
9007
Our slot filter point (right in picture) is unique. The cavity in the point is filled with grease and can be prepared easily out in the field and stored without any influences by the surrounding environments. The risk of losing saturation is minimal. We can also provide porous filter tips (left in picture).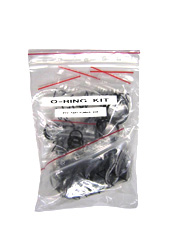 O-ring kit
9015
In this kit all o-rings necessary for maintenance are included. O-ring kit includes:
14,1x1,6

5 pcs

17,3x2,4

5 pcs

23,47x2,62

5 pcs

24,2x3,0

5 pcs

27,5x3,0

5 pcs

27,1x1,6

150 pcs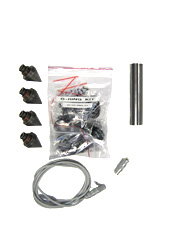 Spare part kit
9017
In this kit all spare parts are included to be able to continue CPT testing. If you lose your battery plug or break the communication cable you can still continue to do the CPT test. It's our recommendation to always have a set of spares available in the field. Spare part kit includes:
Cone Tips

4 pcs

Friction sleeves

1 pcs

Battery plug

1 pcs

O-ring Kit

1 pcs

Communication cable

1 pcs
Envi Vane Shear testing
62102 (Vane system complete)
62101 (Vane probe only)
You can run the system as a traditional vane system with torque measurement above ground, but you can (and should) also use the probe that we call Memovane™ for measuring torque directly on the vane without friction losses. After completing a vane tests in one hole you can create a file with resulting data. The system also creates a report with graphs showing measured torque at failure and a table of shear strength and sensitivity etc: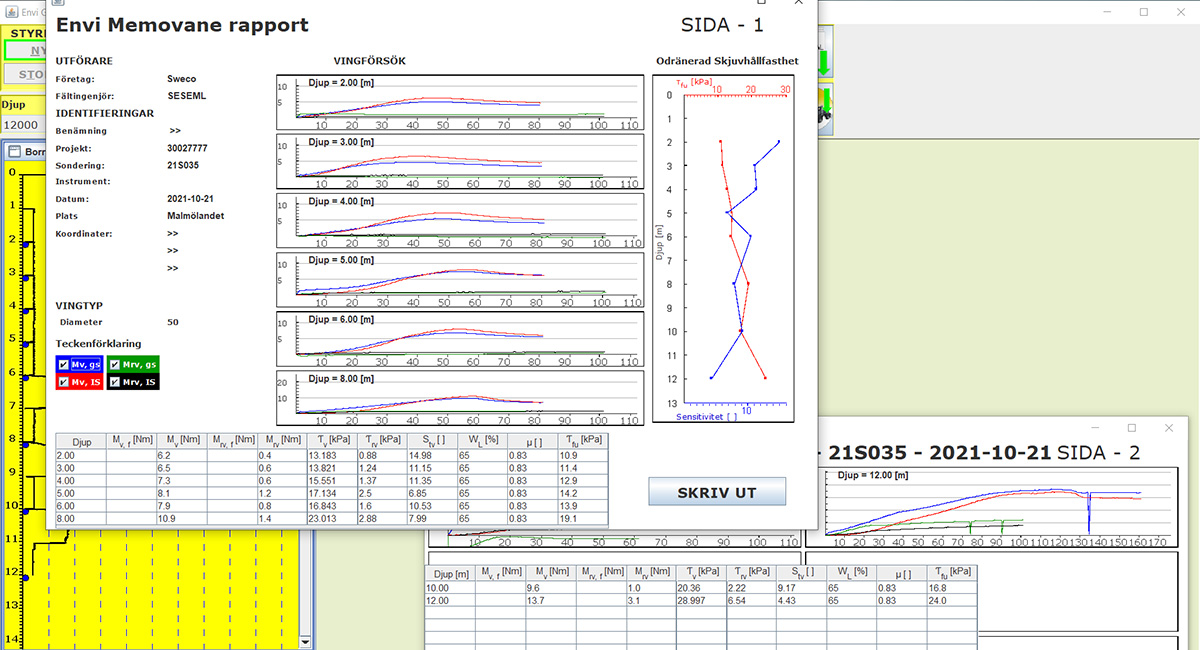 More technical information is available in the product data sheet. Use the contact form to request more information about prices and delivery times, etc.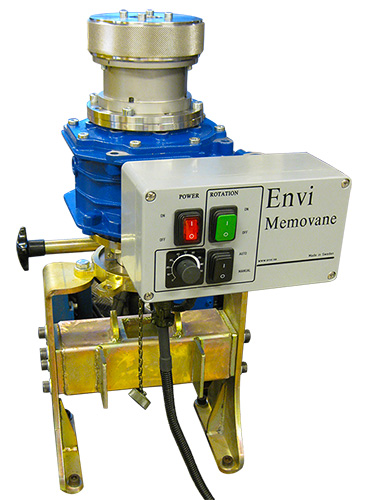 Dataloggers
Our measuring systems are fully digital CAN bus systems. They offer supreme flexibility, robustness and accuracy. A PC is used for user interface and data storage in a MySQL database. You can conect the Envi Memocone CPTu, Memovane vane shear test probe and several add ons.
Two types of loggers are available one for both drill data recording (often called MWD) and CPT/Vane and one for CPT/Vane only.
Envilogger G1
10025 (Complete system)
7404 (Gateway box only)
A logger for recording drill data (also known as MWD). This system has been installed on several types of rigs including geotechnical drill rigs, well drill rigs and diamond core drill rigs. All parts in this system are IP67 or better. You need a Laptop or equivalent to run application software and to have an interface for presentation.
The system can record the following:
Drill data

Current drill depth
Rate of penetration = Drill speed
Hammer Pressure
Rotation Pressure
Flush Pressure
Rotations per minute (RPM)
Rotation count (Number of half turns per 10,15 or 20 cm)
Feed force calculated from thrust and holdback pressure
Flow volume
Time for 10, 15 or 20 cm increase in drill depth
Blow count för SPT, DPSHA, Hejarsondering etc
Blows per 10,15 or 20 cm
Probe data

Envi Memocone CPT + resistivity + seismic
Envi Vane
Envi Column penetration test probe
---
Envilogger C2
8003
Our new generation of CPT data logger, the Envi Logger C2, was officially put to market during the fall of 2018.
Main new features of the C2 are as follows:
Bluetooth data transfer between logger and PC
Bluetooth data transfer from acoustic real time data reading to PC
Protection class IP65 or higher for box and all contacts
Easy mounting and dismounting
Interface to all types of Envi probes such as the Memocone CPT with add on units and Memovane Vane shear test equipment
CAN bus communication with sensors enabling tailor made sensor reading
PC logger data interface
---
Accessories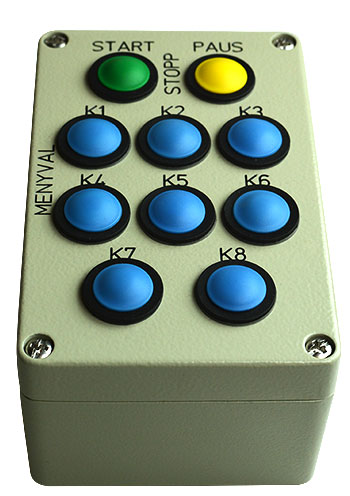 Keypad
7064
The new keypad for controlling Envi logger systems is mainly intended for the G1 system for drill data recording. The keypad will make it a lot easier and faster to control and maneuver the G1 system.
The keypad is equipped with ten buttons. Two of those are dedicated for generating commands for START, PAUS and STOP. The other eight buttons are mainly to be used for generating notes/comments but are also used during some dialogs for moving up and down in lists etc. The eight buttons for notes can be programmed individually to any desired note.
All components used in the keypad are IP67 and operating temperature is at least -20°C - +50°C
---